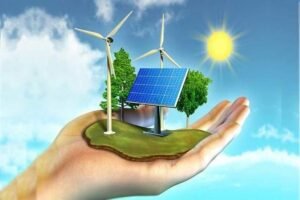 Originally published in The Financial Express on 17 January 2023
As part of the long-term master plan for the power sector, the government has been working to implement the plan in phases to generate 40 per cent of electricity from clean energy by 2041.
"Plan has been taken to generate 40 per cent power from the clean energy by 2041 and import about 9,000MW under the regional and sub-regional cooperation from neighbouring countries," State Minister for Power, Energy and Mineral Resources Nasrul Hamid said.
He said the government also set a target of 10 per cent of the total power generation from renewable energy sources by 2041, reports BSS.
"Bangladesh is now enjoying 100 per cent electrification due to the visionary and prudent leadership of Prime Minister Sheikh Hasina.
We have reached power to all people from inaccessible hills to isolated char areas successfully," Nasrul Hamid said.
According to the ministry, the Power Division was awarded 'Digital Bangladesh Award 2022' for the implementation of Enterprise Resource Planning (ERP) to ensure efficiency, transparency and accountability in the power sector and improve quality of customer services.
It said that the power generation capacity reached to 25,826 MW, while the country is importing 1160 MW of electricity from India.
Apart from this, visible progress has also been made in importing hydropower from Nepal and Bhutan. The government is confident of implementing the power generation plan of 40,000 MW by 2030 and 60,000 MW by 2041.
As part of the government's integrated master plan for the power and energy sector, the Integrated Energy and Power Master Plan (IEPMP) is almost at the final stage.
The present renewable energy installed capacity rose to 950.72 MW.
The government started the Solar Home System (SHS) programmes to fulfill basic electricity requirement of the off-grid rural people of the country.
Up to January 2023, about 6.1 million SHSs have been installed under the programme in the remote areas where electrification through gird expansion is challenging and costly.
Thus the programmes have ensured supply of solar electricity to over 20 million people i.e. 12% of the country's total population who previously used kerosene lamps for lighting purpose.
The Infrastructure Development Company Limited (IDCOL) in the country cooperated with international and local partners to install solar home systems in remote rural areas.
Besides, construction works are going on for 100 MW Solar Power Plant at Madarganj in Jamalpur, 68 MW Solar Park in Sirajganj, 50 MW Solar Power Plant Construction Project in Sonagazi in Feni, 30 MW (AC) Solar Park at Tetulia, by Beximco Power Company Ltd and Jiangsu Zhongtian Technology Co Ltd, 32 MW (AC) Solar Park at Dharampasha, Sunamganj by Haor Bangla-Korea Green Energy Ltd, 5 MW (AC) Solar Park at Patgram, Lalmonirhat by PV Power Patgram Ltd, 5 MW (AC) Solar Park at Gowainghat, Sylhet by Sun Solar Power Plant Ltd and 200 MW (AC) Solar Park at Sundarganj, Gaibandha by Beximco Power Co. Ltd.