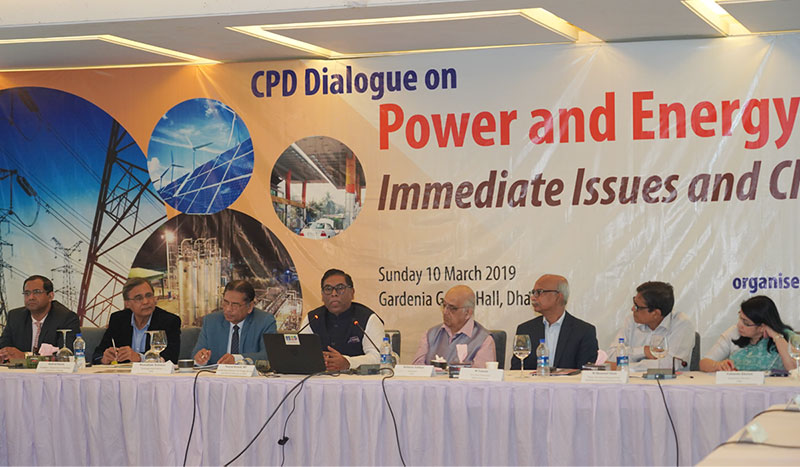 Download: Presentation | Paper | Press Reports
The power sector of Bangladesh has made considerable progress in terms of demands. But power generation is yet to achieve efficiency. Moreover, the gas sector is still lagging behind. Upward tariff adjustments due to these inefficiencies should not be passed on to the consumers. High dependence on natural gas and low contribution of renewable energy are emerging concerns for the country. Petroleum constitutes a major share of fuel costs for power production; this is also causing high imports bills. There is uncertainty regarding the energy mix. Energy mix should ensure supply of good quality energy and power at reasonable tariffs. Priority should be given on domestic resource use including gas, coal and renewable energy. New gas reserves should also be explored.
These views were shared at a dialogue on "Power and Energy Sector: Immediate Issues and Challenges", organised by Centre for Policy Dialogue (CPD). The dialogue was held on 10 March 2019 at Khazana Gardenia Grand Hall, Dhaka. Mr Nasrul Hamid, MP, Hon'ble State Minister, Ministry of Power, Energy and Mineral Resources, Government of Bangladesh (GoB) was the chief guest. Dr Khondaker Golam Moazzem, Research Director, CPD, made a presentation titled, "The Power and Energy Sector of Bangladesh: Challenges of Moving beyond the Transition Stage". Three panellists, Dr M Tamim, Pro-Vice Chancellor, BRAC University, Professor Badrul Imam, Professor, Department of Geology, University of Dhaka and Professor Dr M Shamsul Alam, Dean, Faculty of Engineering, Daffodil International University, made their comments. Professor Mustafizur Rahman, CPD's Distinguished Fellow moderated this session while Professor Rehman Sobhan, Chairman, CPD, chaired the session. Dr Fahmida Khatun, Executive Director, CPD, made welcome remarks.
There are growing concerns about the governance related problems of public agencies, like allegations of corruption. Addressing the future demand will need a shift in demand management from crisis-led approach to market-led approach, from level of access to level of quality, from inefficient use of electricity to its efficient use. Dr Moazzem shared these views while making his argument for ensuring an environmentally sustainable, financially viable and good governance driven energy sector in Bangladesh.
Dr Tamim called for a long-term plan in the energy sector, which are flexible to adapt to global changes. He also urged the government to stick to its plans. Professor Alam recommended that people should have more access to information regarding the price adjustments, as it is unclear who will take the burden of extra payment. The other panellist, Professor Imam commented that Bangladesh is still not completely aware of the gas reserves it has. Bangladesh should carry out both onshore and offshore explorations for gas.
While speaking as the Chief Guest, Mr Nasrul Hamid, MP addressed the questions from the floor regarding the challenges of financing, planning, capacity development and technology in the power and energy sector. He stated that big financiers are already attracted to the Bangladeshi market and the outcomes of these will be visible in due course. The Hon'ble State Minister also shared how technological advancement is being embraced by his ministry to ensure institutional efficiency. He stated that the government has long-term plans and is working to materialise those plans.
Professor Sobhan recommended to ensure competitiveness and to avoid unnecessary delays in the government initiatives. He called for a more transparent system regarding the costing and said that no conflict of interest should prevail in the sector.
The floor comprising academicians, economists, researchers, government officials, diplomats, development partners among others actively participated and shared their insights in the dialogue. Journalists from the digital and print media were also present at the event.