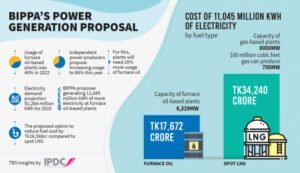 Originally posted in The Business Standard on 24 January 2023
Independent power producers have proposed increasing the usage of heavy fuel oil (HFO) or furnace oil-based power plants to meet the demand surge next summer and save foreign currency used to import costly liquefied natural gas (LNG).
The Bangladesh Independent Power Producers Association (BIPPA), a forum of private sector power producers, recently presented the proposal at a stakeholders' meeting at the Power Division, where it said the use of furnace oil-based plants can be increased from 40% to 66% this year.
The move would save government coffers around Tk16,568 crore.
According to the BIPPA, the government would have to spend only Tk17,672 crore to produce an additional 26% of electricity – 11,045 million kilowatts per hour (kWh) – instead of the Tk34,240 crore needed to do the same by using spot LNG.
If the proposed plan is executed, Petrobangla would not need to import spot LNG for power generation, meeting the gas demand of other sectors with its current supply.
The BIPPA members also assured the authorities that the move would relieve the government from the expected energy crisis next summer.
When the private investors placed the proposal before the Power Division in December, the price per metric million British thermal unit (mmBtu) of spot LNG was $31 to $32.
However, the price of spot LNG now hovers between $22 and $23 per mmBtu, says LNG Japan/Korea Marker PLATTS rate.
Mohammad Hossain, director general of the Power Cell, the policy formulating wing of the Power Division, told The Business Standard that they are considering the proposal with importance and making a collective plan to face the upcoming challenge.
"But I will not say their plan will be completely accepted," he said.
A number of energy experts said the authorities must analyse the cost of different fuels before accepting such a proposal.
"If the fuel cost of a furnace oil-based plant is cheaper than LNG, we also need to compare it to coal-fired plants. Suppose coal price goes down in the global market. In that case, the cost of using it to generate electricity will also be cheaper," Dr Mohammad Tamim, energy expert and professor of Petroleum and Mineral Resources Engineering at Buet, said.
By next summer, the country's coal power plants capacity will reach 4,000 megawatts.
According to the current global fuel price, the cost per unit of coal and furnace oil-based electricity hovers between Tk12-13kWh and Tk15-16kWh, says the Bangladesh Power Development Board (BPDB) and Petrobangla data.
The fuel cost per unit of spot LNG-fired electricity is Tk30-31kWh as the import cost per unit of LNG under a long-term contract is around Tk45 to Tk50.
In its proposal, considering the GDP growth at 5%, the BIPPA projected that the country would need around 92,264 million kWh of electricity in 2023, which is 7% higher than last year's consumption.
The BIPPA proposed two options to meet the demand: generate either 28,037 million kWh or 16,992 million kWh from furnace oil.
The proposal projected that if option one is implemented, the Power Division could reduce fuel costs by Tk16,568 crore.
Fuel oil is generally considered as a dirty source after coal that is harmful for the environment.
Sayeda Rizwana Hasan, chief executive of the Bangladesh Environmental Lawyers Association, said, "Had we turned to renewables at the right time – just as the world is moving towards net-zero now – we also would not have to rely on fossil fuels."
Regular gas supply to other industries
Last summer, almost all industries were hit hard by the gas shortage, which forced the government to ration gas supply for different sectors on a priority basis. The initiative, however, did little to mitigate the crisis.
The country had faced around 1500MW to 2000MW power generation gap due to energy (gas, oil and coal) shortage which has pushed the country into hours-long loadshedding.
The crisis also had drastically affected power generation and industrial production.
The gas crisis led to the return of load-shedding, severely hurting production.
With the lessons of the crisis firmly in mind, IPPs feel their proposal would ensure such a scenario is not repeated.
Analysing gas consumption trends from last year's April to June and July to September in different sectors and considering total 2,750 million cubic feet of gas supply per day in 2023, including long-term LNG, the BIPPA claimed that the government would not face any crisis.
It recommended supplying 175 mmcd to the fertiliser, 875 mmcf for the power sector and 1700 mmcfd (one million cubic feet per day) for other sectors, including industry, captive power, CNG and households.
The proposal predicts that in 2023, the power sector's average demand would be around 875mmcf and the maximum demand could rise in April to 1139 mmcfd. The lowest demand seen was in December when it reached 450 mmcfd.
This demand is manageable through local production and supply from long-term contracts.
In 2021-2022 fiscal year, the total electricity generation of the country was 85,607 MkWh, of which 55% was produced from gas-fired plants, 26.71% from oil-fired furnace plants, 6.24% from coal-based plants, 9.01% from cross-border import, 1.73% from diesel and rest from other sources.
HFO imports on rise
Bangladesh expects to import around 2.5 lakh tonnes of high sulphur fuel oil in January, up 25% from December when electricity demand cooled due to mild temperatures, reports S&P Global quoting Bangladesh Independent Power Producers' Association President Faisal Karim Khan.
S&P Global also forecasted that the South Asian country's HFO demand is likely to rise by 22% in 2023.
However, the forecast for January imports was still down 37.5% year-on-year due in part to the ramping-up of coal-fired power plants, Faisal Karim Khan added.
The 1,320 MW Rampal coal-fired power plant generated around 660 MW of electricity from one of its units in late December, which will reduce dependency on HFO-fired power plants, he said.
Around 3,000 MW of Bangladesh's electricity was generated by HFO, equating to approximately a third of its total power generation of 9,100 MW during evening peak hours.
Last year, Petrobangla imported 17 LNG cargoes from the spot market for Tk15,000 crore.