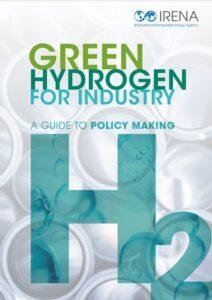 The industrial sector is the leading hydrogen consumer, with 87.1 million tonnes of hydrogen consumed in 2020. Hydrogen is used in refineries, chemical industry, and steelmaking, all categorised as "hard to abate" sectors. This large and centralised demand is critical for developing a green hydrogen sector.
However, several barriers impede green hydrogen's full contribution to the industrial sector, including cost, technical, policy, lack of demand and carbon leakage risk. Policy makers can adopt industrial policies that address barriers and oblige or support a change from fossil fuel dependency of hard to abate sectors. An urgent task given the the long lifespans of industrial assets and a limited window to avert the climate crisis.
This report from the International Renewable Energy Agency (IRENA) provides a basis for understanding the challenges and policy solutions. It highlights the range of policy options available, including mandates, carbon pricing, carbon leakage measures, support schemes and market creation measures and complements these policies with country examples. The report separates policy recommendations into various stages to formulate appropriate policy pathways most suitable to a country's level of deployment of green hydrogen.
Access Publication