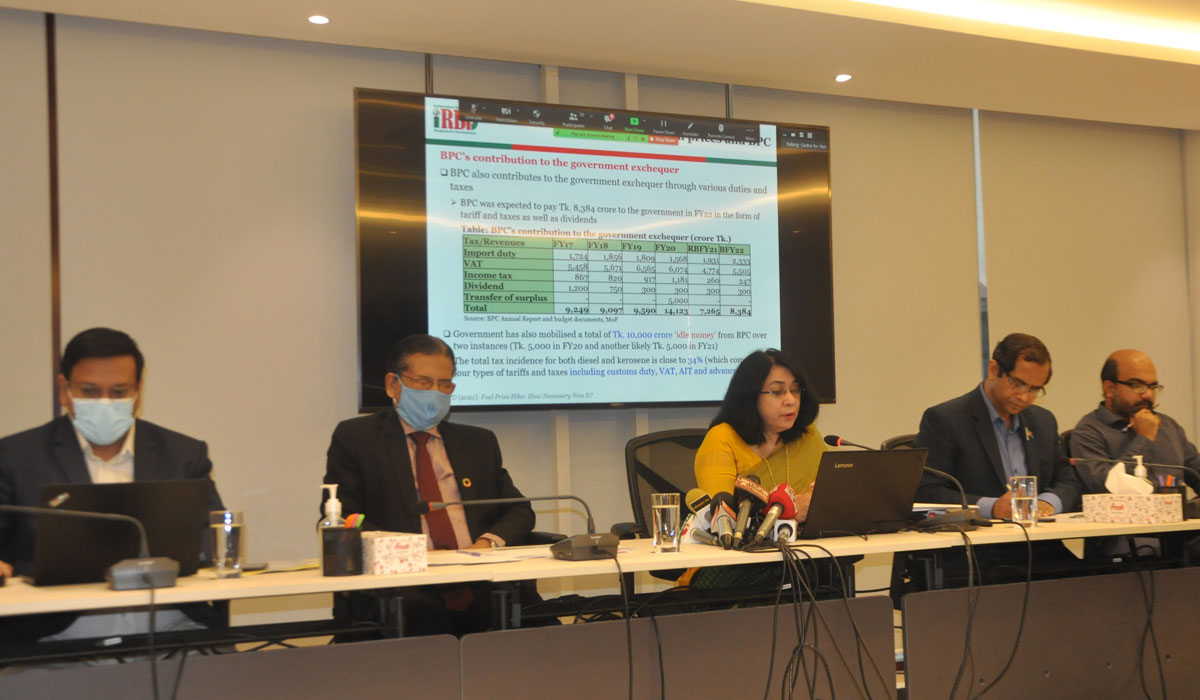 The price hikes of diesel and kerosene will have both immediate and medium-term impacts on various sectors of the economy. The fuel price hike implies that there will be an increase in transportation cost, agricultural cost, and electricity cost. Thus, all production costs will increase leading to the cost of living shooting up, and end consumers will suffer.
In view of recovery from the adverse impacts of COVID-19, stability of fuel price is critically important given the 'strategic' nature of the commodity. Against this backdrop, CPD recommends reinstating the earlier prices of diesel and kerosene on an immediate basis. The accumulated profits of BPC should be enough to provide some cushion despite the previously accrued losses. The government can keep the prices at their previous levels through subsidies or tax and tariff cuts. Forecasts by multilateral agencies (e.g., World Bank) predict a downward movement of fuel prices in 2022. Absorbing the price shock and focusing on recovery should be the government's prime concern at this point in time.
The Centre for Policy Dialogue (CPD) under its flagship programme, Independent Review of Bangladesh's Development (IRBD), organised a media briefing on Fuel Price Hike: How Necessary Was It? The briefing was held at CPD Dialogue Room on 10 November 2021.
Dr Fahmida Khatun, Executive Director, CPD made the keynote presentation at the media briefing. She shared that, on 3 November 2021, Bangladesh Petroleum Corporation (BPC) raised the prices of diesel and kerosene at the retail level – to be effective from zero hours on 4 November 2021. The prices of diesel and kerosene have been increased to Tk. 80/litre from Tk. 65/litre – indicating a 23.1% rise. The price of furnace oil has also been raised to Tk. 62/litre from Tk. 59/litre – a 5.1% increase. Amid the surging global energy prices, this decision came in order to recover the apparent losses incurred by the state-owned BPC, which is the monopoly of the market.
The price hikes of diesel and kerosene came at a time when prices for daily necessities were already exhibiting an upward trend. Compared to the corresponding period of FY21, prices of several commodities shot up in November 2021 (based on TCB data). The inflation data provided by the Bangladesh Bureau of Statistics (BBS) only shows a marginal increase on a point-to-point basis and a declining trend on a moving average basis (up to September 2021). This appears to be quite detached from the actual scenario on the ground and raises questions regarding the reliability of inflation data.
Professor Mustafizur Rahman, Distinguished Fellow; Dr Khondaker Golam Moazzem, Research Director, CPD; Mr Towfiqul Islam Khan, Senior Research Fellow, CPD and Mr Muntaseer Kamal, Senior Research Associate, CPD were also present at the briefing and responded to questions from the journalists.