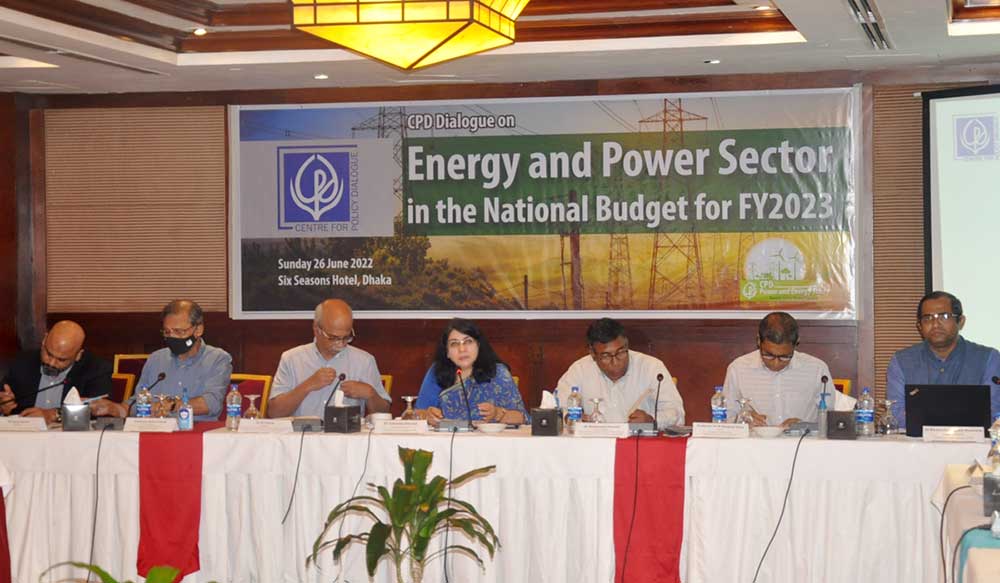 After the release of the proposed national budget, it is now essential to take a look at how the budget is being allocated in the significant sectors such as Energy and Power Sector. The government's 8th Five year plan is currently in the third year of its implementation. Hence, it is crucial to review how this plan has progressed in the first two years and how the Energy and Power Sector is recovering from the impacts of Covid pandemic. In addition, the national budget for FY2023 must also be reviewed to address the concerns of the Energy and Power sector posed by Ukraine war for global energy market.
In view of this, CPD has been organizing   dialogue on 'Energy and Power Sector in the National Budget' for the last three consecutive years. This year a dialogue titled 'Energy and Power Sector in the National Budget for FY2023' was held on 26th June 2022, to discuss all the consequential issues related to the budget allocation in the Energy and Power Sector.
Dr Fahmida Khatun, Executive Director, CPD, Chaired the session where Mohammad Hossain, Director General, Power Cell, Power Division, Ministry of Power, Energy & Mineral Resources, Government of Bangladesh, was present as the Chief Guest.
In her welcome statement, Dr Fahmida Khatun, said that the power sector is significant for economic development because the efficiency of this sector will determine how smoothly the electricity is being produced which in turn will determine how efficiently the businesses are being able to execute their production. On the other hand, the general citizens are highly dependent on electricity and fuel as well. Due to these reasons, it is important to ensure that our energy and power reserves are being used efficiently and in a sustainable way.  Sufficient investment in this sector will have a positive impact on its overall development. For this reason, the proposed budget must be analyzed to ensure appropriate amount has been allocated there and the aftermath of the proposed budget must be discussed if the proposed budget is implemented. Along with this, recommendations to improve this sector must also be explored.
Dr. Khandokar Golam Moazzem, Research Director at CPD, delivered the keynote presentation and stated that the Energy and Power sector expenses had increased due to the rising cost of power generation, price hike of primary fuel in global market, subsidies, and excess capacity payment. We are not being able to generate electricity from the cheapest source. The over generation capacity is even becoming more of a concern as a huge sum of money is being paid as capacity charges caused by volume and value effects. Ways out of this situation by phasing out fossil fuel-based power plants and shifting to renewable energy need serious consideration. Attention must be paid towards the increasing generation cost to ease the fiscal burden of BPDB. Given high fiscal pressure and growing demand for subsidy, tariff revision is under the government's consideration. At this moment, a further upward tariff revision is not desirable. The national budget must address the fact that little effort is being made to alleviate the energy and power sector's financial strain. More focus should be given to reducing over capacity, generation cost, speedy construction of transmission and distribution lines, and domestic gas reserves should be explored instead of importing LNG at a higher price Now it's time that govt. this sector's efficiency and quality now that it has achieved the milestone of 100 percent electrification across the country.
The designated panelist Mr Imran Karim, president of the Bangladesh Independent Power Producers Association (BIPPA), discussed the capacity to switch fuels. To toggle between the fuels to ensure the cheapest electricity, the additional generation capacity is needed. He feels that the ability to toggle between fuels is crucial if we want to continue the country's economic growth. In addition, he stated that it might not be easy to shift from fossil fuels to renewable energy sources due to their untenability, unpredictability and instability.
Professor Dr M Shamsul Alam, Dean, Faculty of Engineering (FE), Daffodil University, said that it is a matter of pride that electricity is available at all places around the country. He urged govt. not to make this pride controversial by addressing the loss incurred by power sector from purchasing electricity at a higher price and supplying it at lower prices.  He further added that Government is expending a huge sum of money as subsidy, but the subsidy is not actually being used for public welfare rather it is being provided to protect the predatory cost of electricity. The regulatory and monitoring mechanism is also not performing at its best to address public demand and complaints.
Badrul Imam, Professor, Department of Geology, University of Dhaka, on one hand stated the 100 per cent electrification as success story. On the other hand, he said that govt. has failed to ensure the optimal energy mix for power generation. He underscored the core cause of rising financial strain in the Energy and Power Sector. Bangladesh blessed by having the most renowned delta area "Bengal Delta" is the least explored. Research from different countries show that we have more than 30 TCF gas still in Bangladesh, exploring natural gas reserves could be much more cost-effective than the imported cost of LNG. Lastly, he emphasized allocating more budget to the energy sector from national budget.
Dr M. Tamim, Professor, Department of Petroleum and Mineral Resources Engineering (PMRE), BUET, opined that before 2006 insufficient power generation was the biggest concern of this sector but the dynamic of the problem has changed and after 2007-08, the unavailability of primary fuel became the most concerning issue. Almost 2000 MW of installed capacity cannot be utilized due to the scarcity of primary fuel. He agreed with other discussants and said that the gas reserves must be explored to minimize electricity production costs. However, Petrobangla is not taking any initiatives for domestic gas exploration while foreign companies like Chevron are mining gas successfully in the Bibiyana gas field. He opined that the government is prioritizing import of fuels instead of domestic gas mining because of which the problems related to gas field and system loss are not being solved. 160 crore taka is being used as capacity charge in Payra power plant for 660 MW of unutilized power only because the transmission lines are not ready yet. There is a high probability that the transmission lines of Rooppur nuclear power plant will not be ready by 2024. If that happens then govt. will have to pay a fortune for its capacity payment. He also imposed questions regarding the inconsistency between the loss of BPDB and the subsidy provided for power sector.
Mr. Mohammad Hossain stated during his remarks that the government is keen to ensure universal access to quality electricity at affordable prices, and the national budget has been developed with this mission in mind. Subsidies are a considerable expense, but it is mandatory to ensure the accessibility of all citizens to electricity at an affordable price, said Mr Hossain. He explained the capacity charge paid to IPP is nothing but the investment cost of that power plant, and by paying it govt. is not doing any favor to IPPs.  11,500 MW of the total installed capacity is gas based as they were installed based on the assumption that Bangladesh is abundant with natural gas. Now we can't operate even half the installed gas-based power plants. However, the lack of gas makes it difficult to meet the energy generation needs, and alternative fuel sources are therefore being utilized. The excess demand is being met by the HFO and HSD based electricity, which is more expensive than gas-based power, this is driving the subsidy even higher. The circumstances of Bangladesh is not favorable for renewable energy. Sustainability is not really about the price; instead, it includes the grid stability and uninterrupted power supply, so the government is yet not sure how viable renewable energy will be. He assured that all the way and means are being explored to develop renewable energy- based power generation in Bangladesh with the aspiration of achieving 40 per cent electricity from renewable and clean energy by 2041.
The dialogue was also attended by academics, researchers, development partners and journalists, several of whom participated in the open discussion and raised a number of issues such as creating budget based on the needs of the citizens, appropriate allocation of budget based on priority, breaking down expenses in details in receipts, creating budgets one year prior to the time of execution, creating a team to analyze budget and its impact on Energy and Power Sector. Questions were also raised about the feasibility of renewable energy sources, quality and safety of transmission and distribution of electricity, capacity charges, reasons for not investing more in domestic gas, domestic gas depletion and the steps that should be taken to execute the master plan of Energy and Power sector.